The association
We are a group of sister associations legally operating in France, Honduras, and Switzerland. We started in Paris in 1998 with the foundation Honduras Croissance under the 1901 French law. In 2020, a new branch was founded in the United States. 
Objectives
For the past 20 years, the organization has focused on education, access to potable water and sanitation. These are key aspects that can aid in human development in the country.
All of our projects are within the framework of sustainable development with the active participation of the beneficiaries and the use of low environmental impact techniques.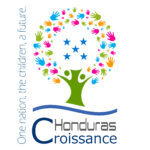 Logo
The tree and its leaves, made from hands, represent the volunteers and the children and youth that benefit and produce fruit from their quality of education. In the center of the tree, the five stars represent the flag of Honduras.
The tree grows and produces fruit from the water, as seen represented by a wave near its roots. Water is a basic necessity for the tree and humans to grow healthily.
Awards
Honduras Crecimiento has received several awards :
Award « Capital Semilla » from the Spanish Embassy (Honduras 2011)
Grand Prix Humanitaire de France Plaquette d'Or (France 2014)
Medal of the French Senate awarded to Maria Gabriela Delgado-Bertand, President and Anna Carolina Delecluse, Secretary (France 2014 and 2015)
« Coup de Pouce » Award EDF Foundation (France 2017)