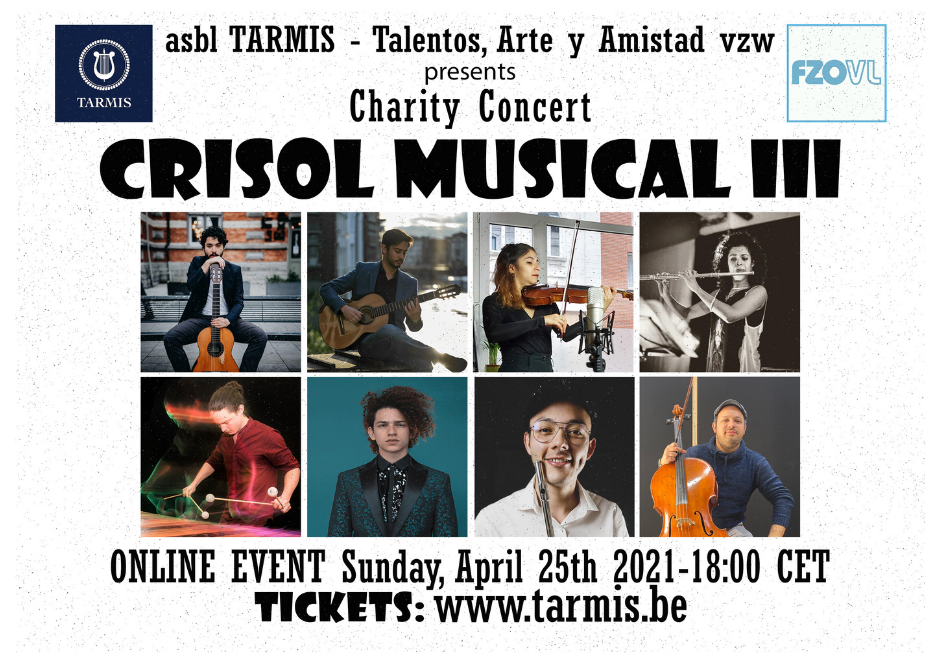 Honduras Rising joins the Belgian association Tarmis to invite you to the instrumental music concert Crisol III.
Tarmis (www.tarmis.be) is a non-profit association that aims to stimulate artistic talents in the world. 
In this third edition 2021, Tarmis will present 7 talented young adults who will delight us with works by Bach, Paganini, Berlioz, Arlen, Piazzola, Martín and Muramatsu.
Don't forget to buy your tickets at www.tarmis.be to enjoy the concert from home on April 25 at 18:00 CET, 12 pm Eastern time USA.
Program
César MEJIA (cello)
– JS BACH: Prélude C-Dur – Suite 3 BWV 1009 (cello solo)
– C SAINT SAENS: Le cygne
Astrid RIOS et Josué CASTRI (violin & guitar)
– Paganini: Cantabile MS. 109
– A. Piazzola: Café 19030
Astrid RIOS et Magda SANCHEZ (violin & flute)
– L Bério; Duos
– A. Neuburger: n°19
– A. Firrenzani: n° 27
– Anonimo: duo Jazz
David BAZALDUA, Josué CASTRO, Michael SARRES (2 guitars & flute)
– E. Gismonti: Agua e Vihno (with Josué Castro)
– P. Metheny: Letter from Home
Michael SARRES (Flute)
– E. Martin: Suite Habana, Lugares Comunes, Amaneceres, Laberinto
Mateus ASATO (Solo Komorebi)
– H. Arlen: Over the Rainbow (arr. Toru Takemitsu)
Michael SARRES (Flute)
– N. Paganini: Carprice n° 7, Caprice n° 19